Interiør
Førerhusets interiør er chaufførens enemærke. Det ved DAF bedre end nogen andre. Baseret på en lang tradition introducerer vi et helt nyt niveau af chaufførkomfort med lanceringen af den nye XF. Med hele 12,6 kubikmeter volumen kan chaufføren med DAF XF Super Space Cab arbejde og bo i det største førerhus på markedet.
Kørsel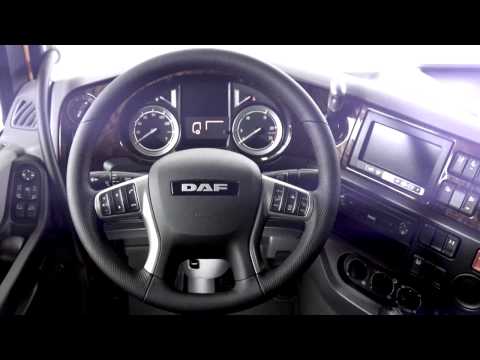 Kontakterne i instrumentbrættet er grupperet efter funktion for at gøre håndteringen mere intuitiv. Det sikrer, at chaufføren kan finde knapperne intuitivt. Instrumentbrættet har to dobbelte DIN-åbninger. Det betyder, at der ud over DAF lastbilnavigationsradioen med USB-port, der fås som ekstraudstyr, også er plads til et ekstra vognparkstyrings- eller kamerasystem. 

Først og fremmest giver DAF XF enhver chauffør en ekstremt behagelig siddestilling takket være sæder med uovertruffen komfort og brugervenlighed. Takket være de mange justeringsmuligheder kan sæderne indstilles på helt utrolig mange måder. Sæderne har indstillelige ryglæn i skulderhøjde og højdejustering af de integrerede sikkerhedsseler.

Pedalerne betyder utrolig meget for den ideelle kørestilling. Bremsepedalen er af den hængende type, hvilket giver bedre plads til chaufførens fødder.

Centralt placeret i instrumentbrættet er et 5" stort TFT-farvedisplay. Det indeholder alle de oplysninger, som chaufføren har brug for angående vigtige motor- og kørefunktioner på ikke mindre end 32 sprog. Displayet indeholder DAF chaufførassistenten, der giver chaufføren feedback om brændstofforbrug og kørestil, brugen af bremserne og korrekt forventet køresituation. TFT-panelet giver også tip om, hvordan chaufføren kan køre endnu mere økonomisk ved at slukke for airconditionsystemet, når det ikke er nødvendigt, undgå kørsel i tomgang mest muligt og holde øje med korrekt dæktryk.
Chauffører fortjener det bedste
Man skal tænke langsigtet, når man vil skabe et fremtidssikret førerhus. Derfor gik vi til opgaven med et åbent sind over for chaufførernes fremtidige behov. Vi gav dem mere komfort og større sikkerhed. Vi ændrede den måde, chaufførens arbejdsplads betragtes på.
Når nu alle kan arbejde hjemme fra deres egen stue i dag, burde en chauffør så ikke også have samme mulighed? Det lyder måske underligt. Ikke desto mindre er det dog lige netop, hvad vi har gjort: Vi har lavet chaufførens arbejdsplads om til hans/hendes dagligstue.
Opholdsrum
Det største opbevaringsrum er under køjen, som nemt kan løftes op ved hjælp af to gasfjedre.

Du kan også vælge at få en 65 liter skuffe og et 40 liter køleskab under sengen.

De tre rummelige skabe over forruden kan også indeholde en mikroovn.

Indvendigt indeholder XF'eren en bred vifte af praktiske løsninger, f.eks. to kopholdere, der kan slås op, til krus og dåser. Der er også tre holdere til kreditkort.

Ud over flaskeholderen ved siden af førersædet er der også en praktisk affaldsspand.

Op ad bagvæggen er der monteret et multifunktionspanel med plads til blade, personlige genstande som f.eks. briller, to kopholdere, et 12 V stik og kontakter til kabinelyset og lemmen. Praktisk belysning giver det sidste touch.
Opholdsrum
DAF XF har masser af plads. Med 12,6 m3 arbejds- og opholdsplads og 2,25 m til loftet er Super Space Cab førerhuset uden sidestykke. Hvis dine ting ikke kan være i et DAF førerhus, har du simpelthen for meget med. XF Super Space Cab førerhuset byder på mere end 1000 liter opbevaringsplads opdelt i praktiske afdelinger.
Soverum
Sov som derhjemme... eller endnu bedre
Hos DAF ved vi, at en udhvilet chauffør er en bedre chauffør. Derfor har DAF køjen altid været en af de bedste. Den leveres med en 2,20 m lang og 16 cm tyk springmadras med næsten 900 fjedre i rustfrit stål og tre "komfortzoner". Midt på er madrassen 80 cm bred, og bag stolene er den 70 cm. Det er garanti for et perfekt hvil.